Currently used in over 40 states and five Canadian provinces, Construction Maestro® Estimating and Design Software for Post Frame, Stud Frame Garage, and Decks allows users to accurately estimate a custom building or deck package with ease. We've combined the expertise of a Microsoft® Certified Professional and a building contractor with 35 years experience in the lumber and building industry. Our Product is designed for lumber companies and building contractors alike. We welcome you to test drive it free for 20 days. See why lumber companies across America are choosing Construction Maestro®!
Get estimates out to potential customers faster, increasing your chance of making the sale.
Help customers better understand the price of goods and labor needed in their projects.
Stop wasting hours estimating packages that may not even come to fruition.
Generate professional looking drawings in your estimates to help ensure you can close the deal.
Provide better instructions to prevent customers from making mistakes and using materials in the wrong places.
Construction Maestro® includes a generous number of features and options that allow the user to create a custom pole barn or garage to their specifications and building style. There are too many features and options to list here, however some of the major features include: Step-by-Step Design, Positive Error Checking, Custom Templates Environment, Steel Materials, Systems Operations, Advanced Settings, Product Database, Plans, Reports & Lists, Openings, Point of Sale Interfacing, Reporting and many Other Features.
STEP-BY-STEP DESIGN
Construction Maestro® is designed to walk the user step by step in creating a pole barn, garage or deck. There are no clumsy drop down menus to memorize, nor is extensive training necessary. Our product is designed to allow new employees to easily move through the program, but complex enough to allow advanced users to customize many, many features. Selection of components is organized in a logical fashion that is easy to follow. Even novice computer users find our product simple to use. Construction Maestro® walks the user through a screen with multiple tabs, one tab at a time. Each tab must be completed before moving onto the next tab. Most important, the Step-by-Step Design, along with the Positive Error Checking System allows the user to create a structure without forgetting important components.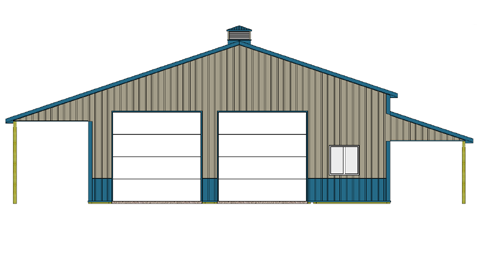 POSITIVE ERROR CHECKING
Construction Maestro® prevents the user from moving on until all issues have been resolved. Issues are easily resolved since intelligent error messages notify the user exactly how to fix the issue at hand. Since errors are resolved on the spot, there is no need to write down error messages to be reworked later. Having an on-board Positive Error Checking system allows the user to create pole barns, garages and decks that are error and hassle-free.
CUSTOM TEMPLATES ENVIRONMENT
Even though Construction Maestro® allows many advanced settings, there are many times when the user wants to save a group of settings to be used over and over. That's where Construction Maestro® Trio's full templates environment comes in. This allows the user to create common custom packages to be used at a later time. Lumberyards will especially take advantage of this feature to service repeat customers, such as contractors. For example, if you sell a common pole barn configuration or advertise packages, you can create it as a template. The user will then select the template, make any necessary changes such as dimensions, colors and openings, and then provide the quote, plans, drawings and materials lists. This allows the user to service common requests easily and quickly. Construction Maestro® has the flexibility of using any existing estimate to create a template. Using one of the custom templates, a full set of plans can be generated within minutes, while the customer waits.
STEEL MATERIALS
Estimates that include steel siding or steel roof panels have a wide variety options to choose from. The user can include wainscot on any of the walls, interior liner panel, control the color of various trim pieces, include a cut charge and choose from a number of steel companies, automatically included in Construction Maestro®. Click here for the current list of our steel vendors.
SYSTEMS OPERATIONS
Construction Maestro's® operations area allows the user to set system-wide defaults so that many options are pre-answered at the time of creating an estimate or template. These values are stored in the advanced settings area for each new estimate or template. Many of these values can be modified on a per estimate/template basis. Options include preferred construction methods, company name and logo, sales tax values, starting points for various building components, required fields and many more.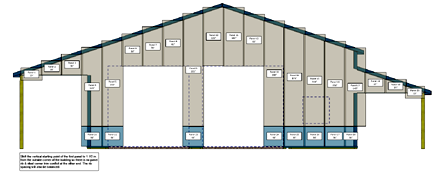 ADVANCED SETTINGS
Advanced settings are a key feature that allows the user to customize many of the components in their structure. For example, Construction Maestro® Trio allows the user to have different size corner poles than spacing poles. Poles, doorjamb, doorjamb covering and weather-stripping can all be different per door! A color palette is installed so that the user will see the actual color of the structure as it is designed. There are also many different settings based on regional differences and personal preferences. The advanced settings are preloaded with the values from the Construction Maestro® Operations area and can be adjusted per estimate/template.
PRODUCT DATABASE
Construction Maestro® Trio boasts a product database that exceeds 20,000 items. The product database is organized by component area so that updating is easy to understand and products are easy to find. Any and all of these items can be changed or deleted. Of course, new items can also be added at any time. There is no need to change a cryptic control file as all products are accessed through easy to use product screens. Each of the product screens asks specific questions about the product including, but not limited to SKU, Price, Description, Order Number and Availability. A master list allows for the easy updating of pricing information. Our database is designed to handle point of sale pricing updates as well. Construction Maestro® has mass price update capability to adjust the prices for groups of products. Product items can be ordered so that the most commonly used items for that category appear at the top to be more easily accessible when creating an estimate.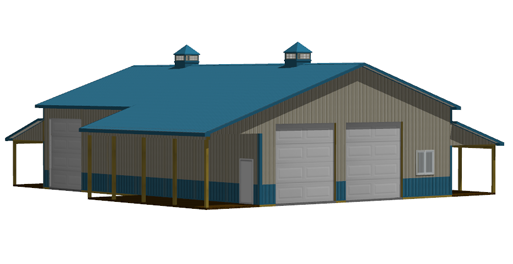 PLANS, REPORTS & LISTS
Construction Maestro® Trio provides a generous package of realistic and practical drawings, plans, lists, and graphics that are usable in the field. Any of the plans/lists can be viewed or printed on a group or individual basis. These plans and lists can also be exported to a separate file that can be emailed to the customer in case of any last minute changes. Click here to see a sample of these plans.
Included Are:
Quotation Page with price, contact information, basic information on structure, and the two 3D views
Categorized Master Materials List with SKU, Quanity, Description, Individual Price and Total
Consolidated Materials Pull List
Special Order Item List
Floor Plan or Pole Layout with usage type, square footage and diagonal line
Categorized Cut List
Side elevations showing girt, skirt and truss carrier layout for post frame buildings and stud spacing and header layout for garages
Truss and Purlin Layout
Plywood Layout for shingled roof buildings
2-D Final Elevation Drawings
3-D Perspective Views
Steel Wall Panel Layout
Steel Roof Panel Layout
Steel Cut List Report
Steel Order Form
Steel Gable Peak Panel Detail
Component and Application drawings using the actual manufacturer details from major steel manufacturers.
Plyco® and Cannonball® installation instructions
Ohio Timberland Products Installation instructions
Special Order Forms for Quality Aluminum and Consolidated Plumbing Industries
Overhang Detail
Cross Section Detail
Header Details
Turnkey Breakdown
Special Instructions/Directions Page
Site plan grid template to allow the placement of the new structure relative to property lines and existing structures.
Decking Layout
Deck Beam and Joist Layout
Stringer Detail Drawing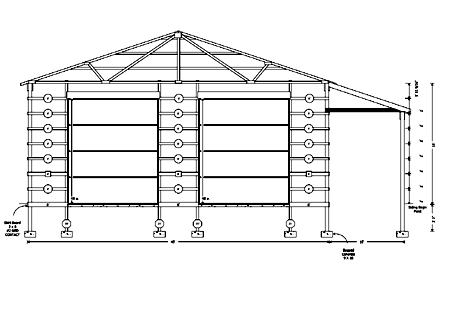 OPENINGS
Construction Maestro® makes it easy to add openings such as entry doors, windows, sliders, overhead doors, general openings, and open walls. The user is guided through a step by step process of choosing an opening and its associated components. Stairs are created in a similar manner when creating a deck.
Options Include:
Company and Type of Door or Window
Poles Species and Size for Doors. Entry doors can be added without poles.
Lockset for Entry Doors
Garage Door Opener, Opener Rail and Ubar for Overhead doors
Angled Corner for Overhead Doors
Custom or Manufactured Headers
Door Jamb
Door Jamb Covering (Steel, Facia, or Coil Stock)
Back Jamb
Adjusting the truss carrier above the opening
Adding a header within the truss carrier
Weatherstripping
Sliding door hardware, and wood components options. These can be set as a template to quickly add a single or split sliding door.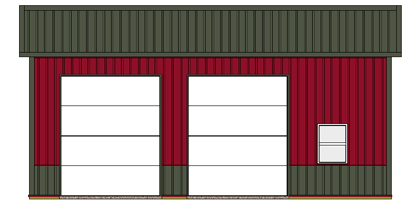 Since the user only sees one side of structure at a time, it is easy add, delete, and modify openings. A scroll bar that appears below the openings allows the user to move the selected opening an inch at a time or a foot at a time. The user also has the option to position the opening to the fraction of an inch by using the Position Selected Opening feature.
POINT OF SALE INTERFACING
Construction Maestro® can import and export pricing as well as export materials lists formatted for over a dozen point of sale systems. This feature, included with all versions of Construction Maestro® reduces time and mistakes. Prices that were updated in the POS system can be exported to a file and imported into the product setup area, automatically updating prices for matching items. Construction Maestro's® material list can be exported to the POS, eliminating the tedious job of reentering all the items by hand.
Construction Maestro® interfaces with the following ERP systems:
BMS
CSD
CRUISE
CYBERBOS®
ECI™ SPRUCE® AND ROCK SOLID MAX®
EPICOR® BISTRACK, EAGLE, FALCON, ENTERPRISE & ECS PRO
INTUIT® QUICKBOOKS®
J3® POINT-OF-SALE
JDA
PARADIGM ACCOUNTING
PIMS
SABERIS
TRANSACT POS®
VERSYSS-DATA BUSINESS EQUIPMENT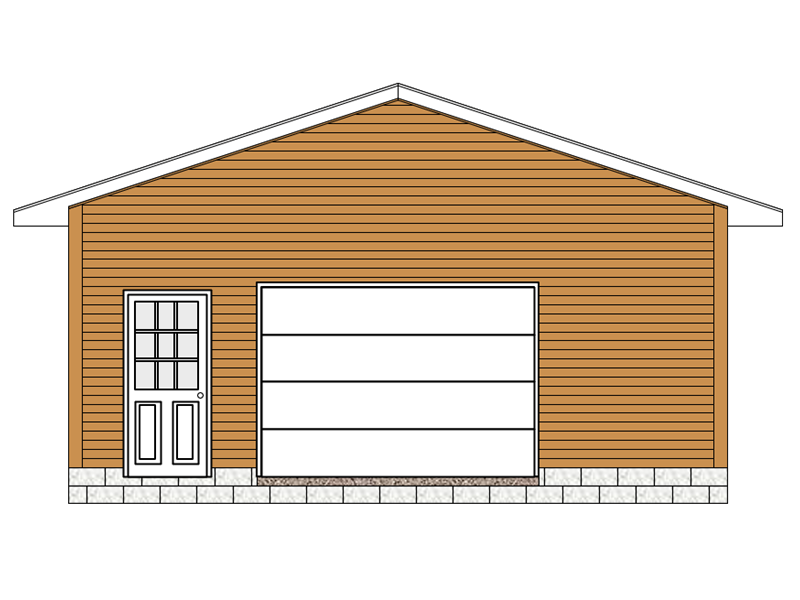 REPORTING
Construction Maestro® Trio allows the user to create reports on sales amounts, sales counts and customer sales experience. The sales reports can be limited to a range of dates, a range of total costs, city and state values. This report allows the user to easily track sales over a period of time. It also compares the ratio of pole barns to garages and decks. The customer experience report allows the user to follow up on unsold estimates, unsatisfied or undecided customers, and even evaluate your sales staff. Colorful 3-D charts visually capture the information listed on the reports.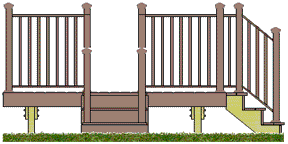 OTHER FEATURES
Construction Maestro® has many features and options that allow the user to create a structure to their building style and specifications. Listed below are more popular options, but please note that not all available options are listed.
Up to five layers on the walls (Insulation, Plywood or OSB, Wall Wrap, Vinyl Siding, Wood Lap Siding, Wood Panel Siding, & Steel Siding layer options)
Up to four layers on the roof (Insulation, Plywood or OSB, Felt, Shingles and Steel Panels layer options)
Use Stock or Lineal (Special Order) Steel
Ten pole layout configurations to choose from
Six Purlin layout configurations to choose from
Ability to Import Pricing from Point of Sale system as well as Export Master Materials List to Point of Sale
Include interior materials such as drywall, steel liner panel and insulation
Multiple Price Levels
Steel Trim Colors: User has the option to individually choose to match the panel color or the trim color for various steel trim pieces per estimate.
Installed Sales: Ability to add labor charges for over 1000 items
Framing Options: Ability to set options to alternately shade boards, number individually, number with original board length, stagger wall girts/purlins or increase pole height
Set important values such as siding begin point, finished earth grade, finished floor as well as depth and thickness of footing
Set various truss options such as pitch, width, number of plys, loading, bearing type, heel height, spacing, chord sizes and if overhang is included.
Deluxe items such as cupolas, weathervanes and shutters can be included on the estimate and appear in the various drawings
Class codes for special order items
System dictionary for explaining various terms
Customer Follow Up area to record customer comments
Uses scrap pieces to minimize waste
Create TurnGirt (Bookshelf) type barns
Standard Gable or Gambrel common trusses with option for Structural Gable trusses
Interface to Timbertech Engineering for quotes on Engineering Services
Product Groups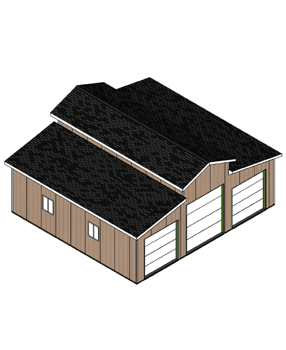 OTHER CONSIDERATIONS
Some other things to consider about Construction Maestro® estimating & design software
Plans designed in Construction Maestro® are suitable for approval by most building inspectors.
Construction Maestro® users get free training online.
Construction Maestro® is used by lumber retailers and building contractors all over North America. See our testimonials.
ADDITIONAL ADD-ONS
Maestro Plotter™ Module - Customize your Maestro drawings and print them to your own scale on your large plotter printer
Maestro Contractor Labor™ Module - Use our 1000+ pre-defined installed labor charges or define your own!
Mobile Maestro™ - Take your Maestro with you wherever you go! Our custom thumb drives allow flexibilty and freedom in the field!
Maestro Fast Forward™ - This new automation tool allows users to import/export pricing rapidly from POS/ERP software!
AND MORE...
There are so many features, too many to list them all here. To experience them firsthand you can try Construction Maestro® yourself FREE for 20 days. Request your trial here.